We believe that the best of the experiences is to travel, the finest way to celebrate life's moments, a precious gift that improves with the passage of time.
Live the unique experience of tailor-made tours, from cooking classes to wine tastings, a guided tour of Florence and a whole series of excursions in the surrounding countryside, let us know what you dream to do during your holiday and we will do try our best to make it memorable!
Leisure
From the pool you can enjoy stunning views over the Tuscan countryside. As you swim, take in the outline of the gently rolling hills and the blue of the sky. Relax by reading a good or enjoy the sunset in the outdoor seating area by the pool with a glass of Chianti Cabbiavoli. That's life!
Trekking & Cycling
Cabbiavoli is full of paths to be covered on foot or by bicycle. Some of these offer a unique sensory experience in perfect harmony with nature. In partnership with Rental Gippo, bicycles can be booked and delivered on site.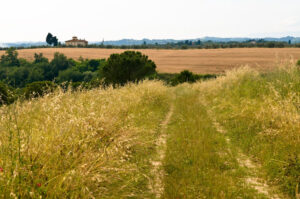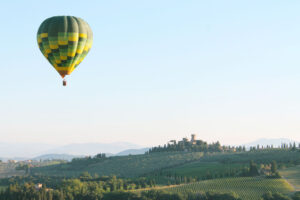 Fly Over Chianti
In collaboration with Tuscany Ballooning, experience the magic of flight, a bird's eye view on Tuscany's vineyards, olive groves and ancient townships; There's nothing quite like flying in a hot air balloon near Florence over the Chianti hills!
Golf
For those who want to play golf in Tuscany allows you to choose between two of the most beautiful courses of Tuscany, the Golf dell'Ugolino and the Golf di Castelfalfi: both immersed in the peace of the Chianti will allow you, even in a single holiday, to play surrounded by idyllic scenery and in close contact with nature and the solar light.
Cooking Classes
For guests of the Villa, Marta is available for personalised cooking classes. The opportunity to learn how to cook traditional Tuscan dishes with respect for the seasons using Tuscan products from the estate's own garden or other local farms.
Eat At The Farmhouses
Chiosco del Renai, a walking distance Agri Risto bar managed by a local family for lunches and aperitifs with a view!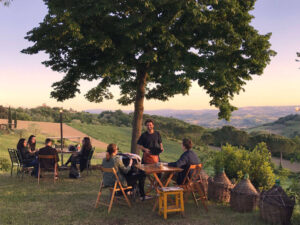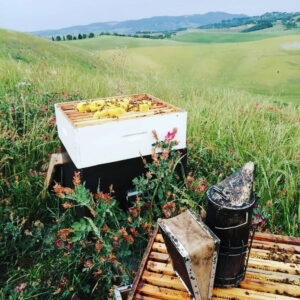 Wine, Oil & Honey
During your stay, try our range of red and white wines. Allow us to present a product of absolute purity such as our "cold-pressed" extra virgin olive oil to be enjoyed raw with vegetables. Attached to Bellavista just below the Farm, our hives are hidden among the trees, where our bees produce the most delicious wildflower honey.
Weddings & Special Celebrations
Cabbiavoli is the perfect location for those seeking a truly unique setting for a different occasion with that extra something: a consecrated chapel, stunning views, an intimate atmosphere, and colours and flavours of true Tuscany. Consider the possibility of celebrating your special occasions in our Estate as the backdrop. The Villa can accommodate up to 12 guests, and there is a variety of additional farmhouses available within walking distance.
Art
When you are enjoying your stay, you can spend some time visiting some of the most dreamed Italian places, creating unforgettable moments. A few kilometres of driving will transport you to Florence, Siena or Pisa, walking on Ponte Vecchio, visiting Uffizi Gallery or climbing the Leaning Tower.